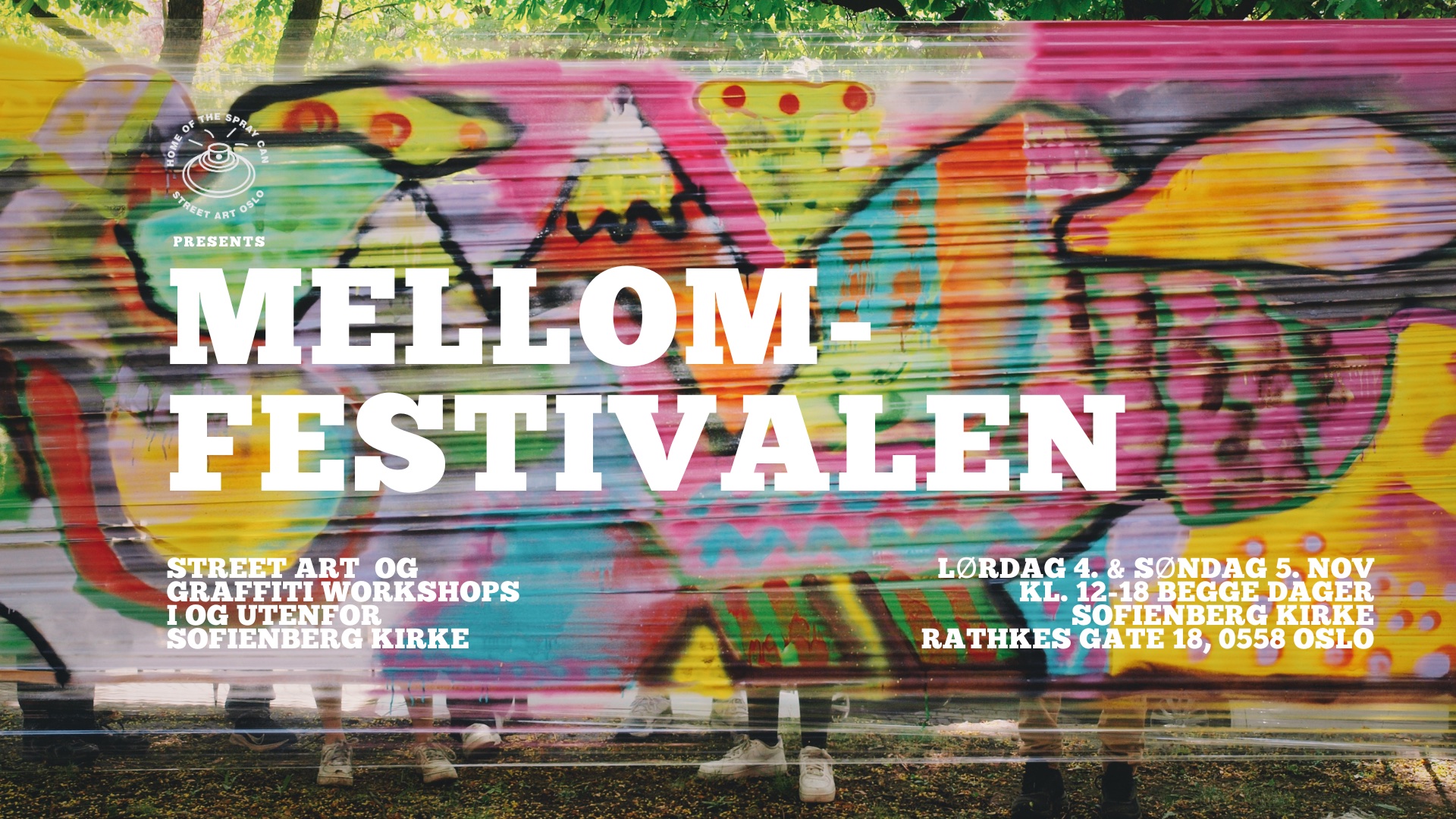 Mellomfestivalen
---
---
Artists: Sofienberg ungdomsskole 9. trinn, Øivin Horvei

Produced by: Street Art Oslo

Financed by: Bergesenstiftelsen, DNB Sparebankstiftelsen, Oslo Kommune, Paulus og

Sofienberg menighet, Street Art Oslo

Duration: October - November 2023
---
---
NO: Mellomfestivalen er en nabolagsfestival som arrangeres av Street Art Oslo og Blå Kors Ung Oslo, i samarbeid med Sofienberg ungdomsskole, Grünerløkka Flerbrukshus (Kirkens Bymisjon/Bydel Grünerløkka), Paulus og Sofienberg menighet, og andre lokale aktører i nabolaget.

Området Sofienberg kirke og Sofienbergparken Øst er i en overgangsfase. Sofienberg kirke er tatt ut av ordinær drift, og hva som skjer videre, er beslutningsprossesser som gjerne er voksenstyrt og tidkrevende.

Mellomfestivalen ble initiert i 2022 med ideen om å invitere barn og unge med tilknytning til området få komme til orde om hvordan de ser for seg en fremtidig Sofienberg kirke- og park, med følgende utgangspunkt:

Hva er et godt nabolag? Skal vi forsøke å lage det sammen?

Gjennom en rekke workshops ble svarene deres uttrykt gjennom ord, tegninger og installasjoner, presentert sammen på en kunstutstilling i Sofienberg kirke i september 2022, sammen med monumentale malerier av den lokale kunstneren Eva Hansen Sjøvold.

Prosjektet gjennomføres igjen sommer og høst 2023 og består av aktiviteter som tilrettelegger for samskapende kunstproduksjon i nabolaget på tvers av generasjoner, funksjonsevner og sosio-kulturell tilhørighet.

Hovedmål er å skape kontakt mellom unge og deres umiddelbare nærmiljø, ved hjelp av kunst som de opplever relevant, der de er, og er i tråd med FNs bærekraftmål 11: å skape trygge robuste og bærekraftige byer.
EN: Mellomfestivalen is a neighbourhood festival which is organized by Street Art Oslo and Blå Kors Ung Oslo, in collaboration with Sofienberg ungdomsskole, Grünerløkka Flerbrukshus (Kirkens Bymisjon/District Grünerløkka), Paulus and Sofienberg congregation, and other local actors in the neighbourhood.

The Sofienberg church and Sofienbergparken East area is in a transitional phase. Sofienberg church has been taken out of normal operation, and what happens next are decision-making processes that are often adult-led and time-consuming.

Mellomfestivalen was initiated in 2022 with an idea to invite children and young people connected to the area to speak about how they envision a future Sofienberg church and park, with the following starting point:

What is a good neighbourhood? Shall we try to make it together?

Through a series of workshops, their answers were expressed through words, drawings and installations, presented together in an art exhibition in Sofienberg church in September 2022, alongside monumental paintings by local artist Eva Hansen Sjøvold.

The project will be carried out again in summer and autumn 2023 and consist of activities that facilitate co-creative art production in the neighbourhood across generations, functional abilities and socio-cultural belonging.

The main goal is to create contact between young people and their immediate environment, using art that they find relevant, where they are, in line with the UN's sustainability goal number 11: to create safe, robust and sustainable cities.