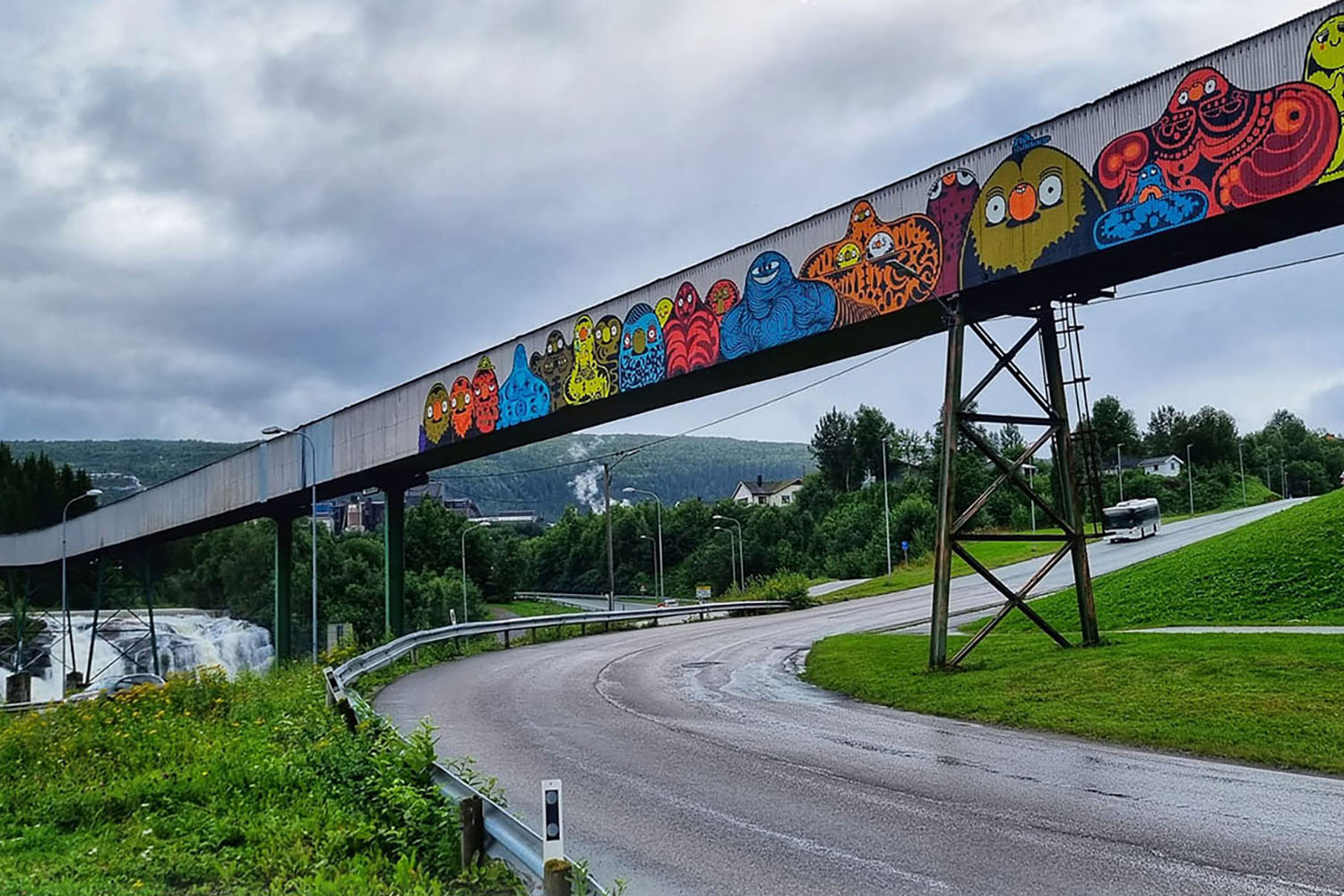 Mo i Rana Gategalleriet
---
---
Artists: Eva Hansen Sjøvold, M.u.M, Øivin Horvei

Initiated by: Rana utvikling

Curated and produced by: Street Art Oslo

Financed by: Akva Group, Arctic Race of Norway, Elkem, Helgelandskraft, Kooperativen kjøpesenter AS, Mobo,

Mo Industripark, Momek, Rana utvikling, Retura Haf, Sparebank 1 Helgeland, Tre og betong, Zar eiendom

Completed: August 2022
---
---
NO: I 2022 inngikk Rana utvikling og Street Art Oslo en avtale om å produsere en serie kunstverk i Mo i Rana med mål om å styrke lokal historieformidling, omdømme og stolthet.
Øivin Horvei, M.u.M og Eva Hansen Sjøvold tolket historien til Mo i Rana på hver sin måte og formidlet den med byen som et lerret.
Vikabandet – Norges lengste bygning – ble dekorert med fargerike karakterer av Øivin Horvei. I midten er en lilla figur, "Mor i Rana", som holder dem alle sammen. Vikabandet frakter råstoff fra industrikaia og til industriparken, og erstatter inntil 50.000 lastebillass i året eller 40 lastebilturer hver dag. Mange lokale synes det er skjemmende, men dette inngrepet fremhever Vikabandets rolle i Mo i Ranas unike industriarv.
I sentrum har den chilenske kunstner M.u.M malt et veggmaleri på veggen til AMFI kjøpesenter. Halvmannen halvkvinne har pyntet seg med skrapmetall fra Mo Industripark, haglepatroner brukt i det lokale jaktmiljøet, og en sommerfugl inspirert av Rana Museums store sommerfuglsamling. Andre detaljer tyder på å ta vare på vår vakre natur, mens regnbuefarger og et fremtidsrettet blikk indikerer mangfold og inkludering.
For sitt veggmaleri på endeveggen til Rust vinbar har den lokale kunstneren Eva Hansen Sjøvold fordypet seg i nasjonalbibliotekets arkiv. Her fant hun tre bilder som hun brukte som utgangspunkt for maleriet sitt. Veggmaleriet viser en ung jente og faren hennes på det som ser ut til å være en omvisning i jernverket. På toppen ser vi gløden fra smelteovnen og gnister som flyr ut – her sett fra jenta som stjerner. Nederst på veggen ser vi også formene som brukes i jernproduksjon – en hyllest til industriens betydning i fortid og for fremtiden.
"Gjennom gatekunst har vi hatt som mål å bygge på egen identitet, med et langsiktig mål om at dette skal være en av mange tiltak som kan øke vårt omdømme. Nå som resultatet er ferdig, ser vi en transformasjon av byrom og en overveldende positiv respons i sosiale medier." Iselin Breirem, prosjektleder i Rana Utvikling
Prosjektet ble tildelt 2023 Ranaregionens næringsforenings pris for Omdømme.
Lær mer om prosjektet på
moirana.com
.
EN: In 2022, Rana utvikling and Street Art Oslo entered into an agreement to produce a series of artworks in Mo i Rana with the aim of strengthening local history communication, reputation and pride.

Øivin Horvei, M.u.M and Eva Hans Sjøvold each interpreted the history of Mo i Rana in their own way, using the city as their canvas.

Vikabandet – Norway's longest building - was decorated with colourful characters by Øivin Horvei. In the middle is a purple figure, "Mor i Rana", who holds them all together. Vikabandet transports raw materials from the industrial quay and to the industrial park, replacing up to 50,000 truck loads a year or 40 truck trips every day. Many locals consider it unsightly, but this intervention highlights Vikabandet's role in Mo i Rana's unique industrial heritage.

In the city centre, Chilean artist M.u.M has painted a mural on the wall of AMFI shopping centre. The half man half woman has decorated themself with scrap metal from Mo Industripark, shotgun cartridges used in the local hunting environment, and a butterfly inspired by Rana Museum's large butterfly collection. Other details hint to take care of our beautiful nature, while rainbow colours and a forward-looking gaze indicate diversity and inclusion.

For her mural on the end wall of the Rust wine bar, local artist Eva Hansen Sjøvold delved into the national library's archive. Here she found three pictures which she used as a starting point for her painting. The mural depicts a young girl and her father on what appears to be a tour of Mo i Rana's ironworks. At the top we see the glow from the melting furnace and sparks flying out – seen here from the perspective of the girl as stars. At the bottom of the wall we also see the moulds used in iron production - a tribute to the importance of the industry in the past and for the future.

"Through street art, we have aimed to build on our own identity, with a long-term goal that this should be one of many measures that can increase our reputation. Now that the result is complete, we see a transformation of urban spaces and an overwhelmingly positive response in social media." Iselin Breirem, Project Manager in Rana Utvikling

Mo I Rana Gategalleriet was awarded the 2023 Rana business association prize for Reputation.

Learn more about the project at moirana.com.