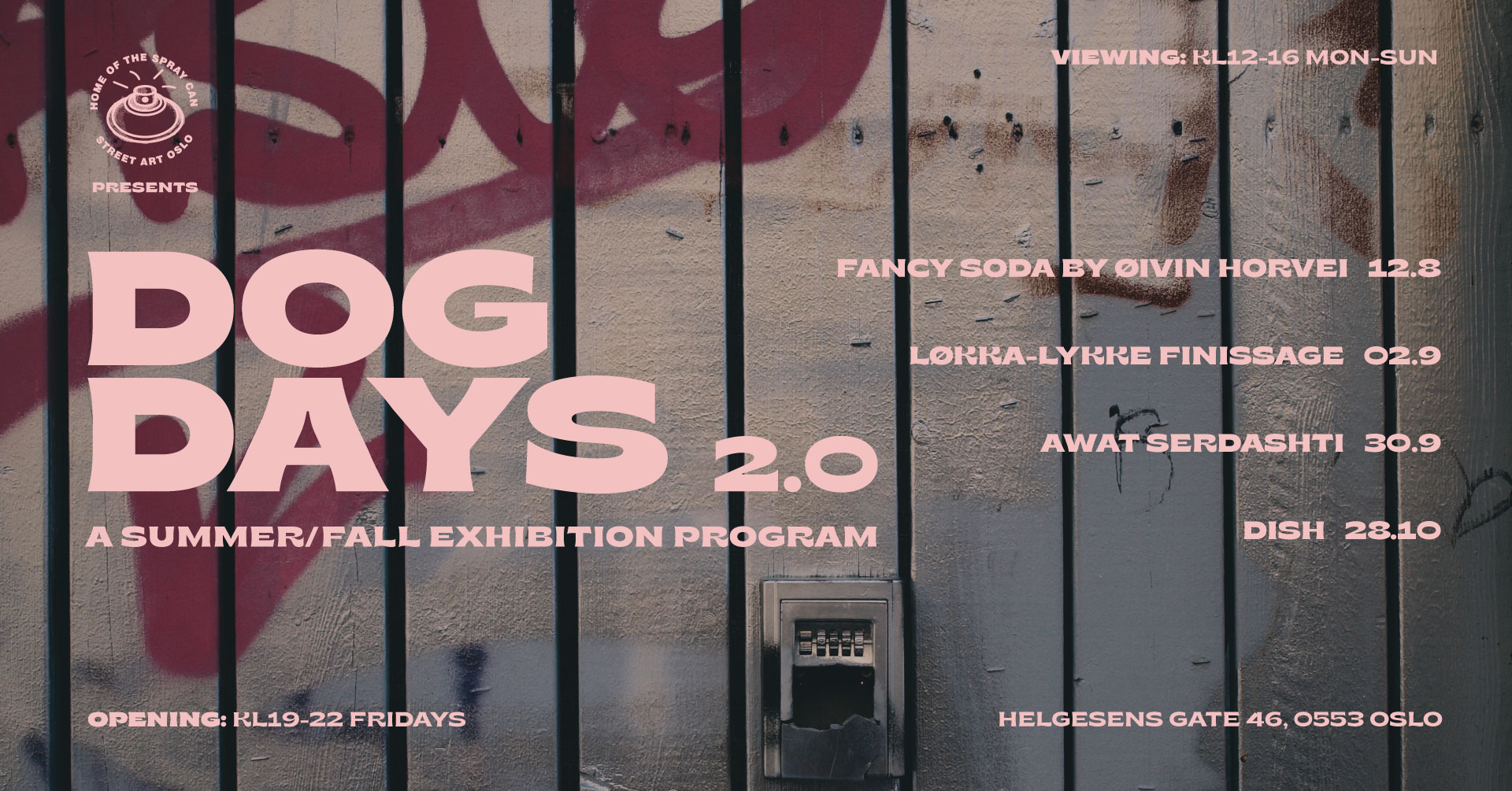 Dog Days 2.0
---
---
Artists: Øivin Horvei, Awat Serdashti, Dish (+ Løkka-Lykke Finissage)

Produced by: Street Art Oslo

Financed by: Street Art Oslo

Duration: August 12 - November 27 2022
---
---
NO: Street Art Oslo presenterer vår sommer/høsts utstillingsserie Dog Days 2.0, som vises i vårt mikrogalleri og bakgårdshage ved Sofienbergparken.
Dog Days er en serie utstillinger bestående av kunstnere og prosjekter som gjenspeiler et bredt spekter av graffiti-, gate- og outsiderkunst. Utstilingene vil omfatte originale tegninger, malerier, skulpturer, installasjoner, wearables, eksklusiv kunstprint trykket i begrenset opplag, zineutgivelser og mer.
Meld deg på vårt
nyhetsbrev
for å motta forhåndsinformasjon om kommende utstillinger og planlagte utgivelser i begrenset opplag i forbindelse med Dog Days 2.0
EN: Street Art Oslo presents Dog Days 2.0 - a summer/fall exhibition program at our micro-gallery and garden space on Sofienbergparken.

Dog Days is a series of exhibitions from artists and projects that reflect the wider spectrum of graffiti, street and outsider art. Featuring original drawings, paintings, sculpture, installations, wearables, limited-edition print and zine releases and more.

Sign up to our newsletter to receive advance previews of our forthcoming exhibitions and limited-edition releases scheduled as part of Dog Days 2.0.